Big bags for the packaging of your products
Design, manufacturing and distribution of bags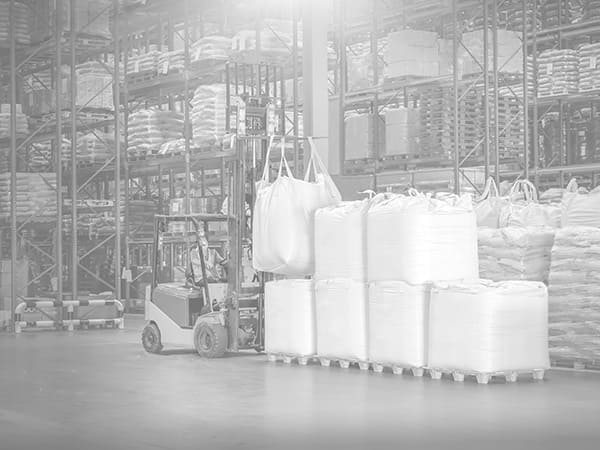 It is the best system for packaging your merchandise.
It is used in both storage and transportation.
It allows all types of goods and there are various sizes and models.
It is a very economical system thanks to its low cost.
Different loading and unloading options
Possibility of inner bag (ALUMINIUM, PE, PP)
Possibility of custom manufacturing and in different formats.
Clean Room
Safety factor 5:1 or 6:1
Load capacity and resistance up to 2,000 kg
Quality certificates and approvals.
Store your merchandise with BigPacks bags
We offer multiple models of Big Bags for the storage and transport of your cargo
At F2 Servid we have a wide range of bags so you can find the one that best suits the needs of your merchandise. In addition, we have our own local manufacturing workshop to be able to cover emergencies and short-term deliveries and we also have a large warehouse to store our clients' Stock at no cost.
Different sectors of application
Big Bags are used by multiple industries. They are used by most manufacturers in the chemical sector, along with sectors such as minerals, food, cement, pharmaceuticals, agricultural products, plastics, fertilizers, etc.
Suitable for hazardous materials
We have BigPacks specially designed for the transport of hazardous, corrosive and polluting materials, following the main current regulations.
All the Big Bags that we offer at F2 Servid, both those that we distribute and those that we manufacture, comply with the EFIBCA regulations and we also have the ISO certification.
Discover the Big Bag that best suits your product
Thanks to its construction with reinforced panels, it maximizes the space inside the maritime container, maintaining its stable shape.
The approved bag for hazardous, corrosive or polluting materials.
Its antistatic or conductive raffia fabric (depending on the need) is used exclusively to avoid the risk that static electricity can cause during loading and unloading.
Made with seamless circular fabric, ideal for very fine or powdery products, as it prevents the material from leaking through the seams.
U-panel construction. It is one of the most common products within the Big Pack range.
Capable of transporting loads from 500 Kg to 2,000 Kilos. Fast loading and specially designed for the cement and fertilizer sector.
Specially designed for the packaging of nuts, potatoes, onions… its breathable bands allow the product to be ventilated.
The most environmentally friendly Big Bag model made with recovered PET bottles and 100% reciclable.
Treatment service based on the creation of a modified atmosphere to extend the useful life of the product.
This bag stands out for its design, which allows handling through two lifting points. It is ideal for direct loading into ship holds.
It is a type of low-cost, recyclable and reusable pallet designed exclusively for the storage of Big Packs.
BigPack Ecopalet Cardboard
BigPack

Ecopalet Cardboard
The most sustainable solution for storing BigPacks. Its manufacture in cardboard provides more agility and lightness in handling.
Customize your Big Bag in the format that suits your needs